Received 10/15/2006 03:50
Happy 2nd Birthday to Hannah
Our little girl is officially TWO! Her birthday celebration started off by going to IHOP where she got her very own funny face pancake. (She usually just eats off our plates.) But today she is a BIG girl. All she ate off her pancake were the chocolate chips and the cherries for eyes, AND SHE STILL ATE OFF OUR PLATES. She like sausage and hash browns. After breakfast Cameron came over so her mommy could clean up their house (The big birthday bash was at Cameron's house because we got a two for one special)
At the party the Hannah acted her age. Terrible two! She got mad when it was someone else's turn to hit the pinata and she got mad when we tried to take her picture with Cameron. I think she cried less on her 1st birthday. In between fits everyone had a blast. Hannah and Cameron both got Elmo Potties (Thanks Granny!) and a bunch of other toys that MAKE NOISE are educational.
We still need to work on her blowing out the candles and even blowing on hot food for that matter. When she blows the only thing that moves is her bangs. It seems if she can't feel the wind on her face she isn't doing it right? Oh well Happy Birthday Hannah!
Check out the rest of the pictures in the Gallery
P.S. It seems that we are having trouble with our comments. If you try to leave a comment, click on send and nothing shows up, then for some reason it didn't take. One thing that I've found that helps is to press enter/return after your comment and put some blank lines it in it. But sometimes that doesn't work either. Maybe in blog version 2.0 it will be fixed.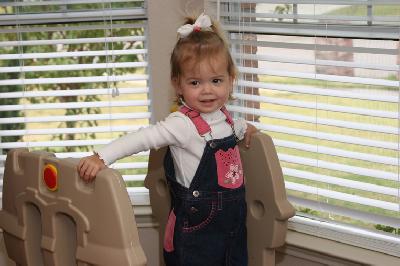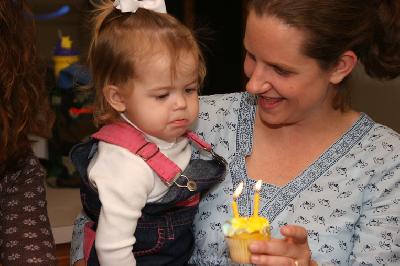 Comments for post