Received 05/31/2006 13:37
Champion on the EMSISD Tour!
Yesterday our district had their annual tournament and after getting 2nd last year, this year would be a different story. We started off slow, and parred the first hole, then we birdied the next 10 holes! I hit a monster drive on number 12, and we were only 30 yards off the green, but nobody stuck it close. We all missed our birdied putts and let that birdie slip by. Number 13 was a 160 yard par 3, and no one hit it close on this hole either, it was our 2nd par in a row. Number 14 is a risk/reward par 5, easily reachable in 2, but you have to carry 260 yards over water to a very narrow fairway. My drive went right, another guy laid up, and the third looked like it would be good, but hit a tree. When we got to the ball we found that we had a decent lie and it had cleared the water. We were 177 out and I hit a perfect 5 iron about 8 feet from the cup. I made the eagle put, and we chipped in the next hole for another eagle, and birdied the rest of the holes except for 18. We finished at 16 under! Our team won about four hundred dollars in cash and prizes! They also had other prizes for closest to the pin and long drive. I "should" have won both long drives as my ball was the farthest, but neither of mine were in the fairway! I wasn't in trouble, I wasn't even in the rough, just not in the "fairway" It was a good thing my swing coach "Hannah" helped me out with my iron play, because I did win closest to the pin at about 3 feet with my 9 iron. The prize you ask? A trip for two to VEGAS! Anyone wanna come and watch my swing coach Hannah?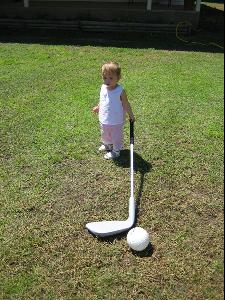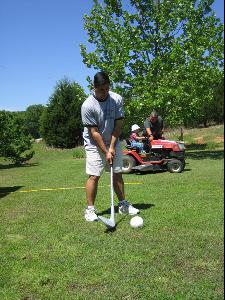 Comments for post