Received 09/10/2008 03:02
My, Where Does the Time Go?
It is hard to believe how much the kids change in a year. Seeing them every day I don't really notice until I "take a look back" at pictures.

The first picture was taken last year (late summer/early fall). We were getting ready to head out the door for church and they just looked so cute that I couldn't help myself. I made the Daddy drag out the camera. It is one of my favs of the two of them.

Hannah wasn't quite 3 yet. She was still in diapers and soooo into Dora. She loved helping Mommy with her little brother.

Andrew was about 5 months or so. Full of smiles and not mobile (yet anyway). He was almost sitting up by himself. And NOT sleeping through the night.

The second picture was taken a couple of weeks ago (once again before church).

Hannah is now almost 4 and in "big" school. She is fully potty trained and so in to Disney Princess and Mermaids. She is super inventive and very creative and loves going to school to play with her friends. She is a pretty good help to Mommy w/ Andrew. They love to chase each other around and giggle.

Andrew, AKA "the monkey", is ALL over the place. He is finally sleeping through the night and runs full speed ahead EVERYWHERE. He will climb on anything and everything and loves to tease his sister. He is gradually adding new words here and there. His latest being: Ketchup and won't sit still for a pic.

We didn't get the best shot, but it is just how life with the two of them seems to be: unpredictable!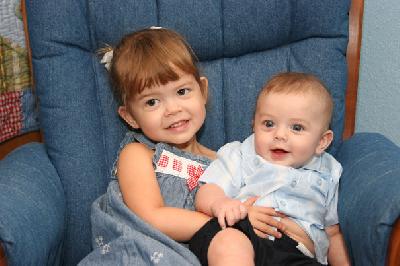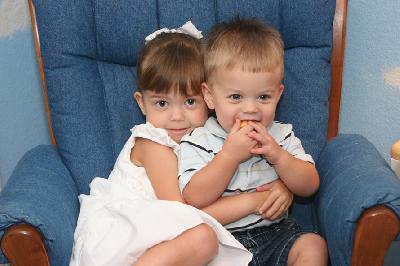 Comments for post