Received 01/13/2006 01:27
FREE CHICK-FIL-A FOR A YEAR!!!
Yes that's right folks, I get free Chick-Fil-A food for the next year! A new store opened up near my house this morning, and last night while Anna was getting some groceries, she noticed a bunch of tents in the parking lot. She drove up to check it out and found out that the first 100 people in the store got vouchers for 52 free meals at Chick-Fil-A for a year! So I packed up the ole Philmont back pack and went "Urban Camping"
I got there around 9:30 had my tent and stuff set up about 10:30, and let me tell you what, I wasn't roughing it at all. I brought our queen sized air mattress, which barely even fit in the tent, I brought pillows and 3 sleeping bags. We had a steady 25mph wind and it probably got down in the low 40s, but I was snug in my bed. The wind or cold didn't bother me at all.
We were taken care of. We got all kinds of free stuff. We got a bottomless mug that we could use to get anything we needed to drink. The store was open, so we could use the bathroom, and they constantly fed and entertained us. I ate chicken nuggets, chicken biscuits, and ice cream. The entertainment consisted of all these crazy games we could play for prizes. Like who could put on a Chick-Fil-A shirt the fastest. The catch was the shirt was frozen. Then there was the Chicken nugget eating contest (without the use of your hands), and I can't tell you how many times I heard "The Chicken Dance"
I went to bed about 12, and got up about 5. They came to my tent and gave me some chicken biscuits for breakfast, then I went into the store and got some coffee. They lined us up at about 6 to enter the store, but because NBC5i was there, they waited until 6:22 to open up the store (That's when it would air live) I was the 73rd person in the store.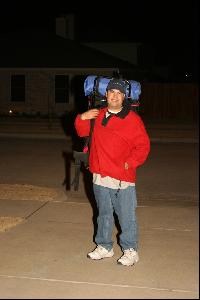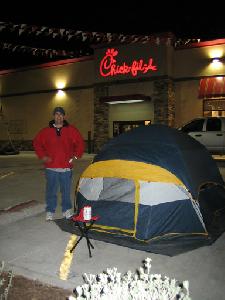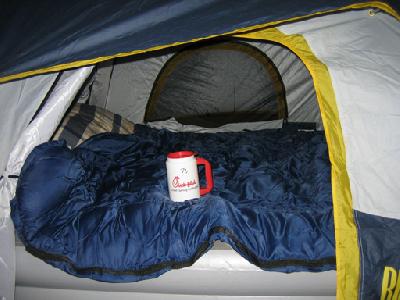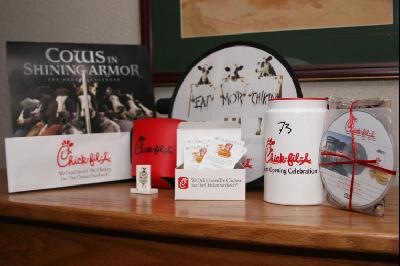 Comments for post